The Tarlton Farmers Market is just one of the home-grown sustainable activities on our plate. Whether it's sorting recyclables at Pedal the Cause or collecting plastic grocery bags at work, our Green Team is always propelling us to be more sustainable.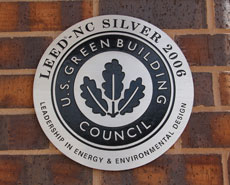 While constructing with sustainability has been a focus since our first LEED project back in 2004, we're always looking for ways to be green in all of our business operations. Tarlton is actively involved in organizations and activities that promote sustainable construction and business operations in the region. We're a Silver Sponsor of the USGBC Missouri Gateway Chapter and an Emeritus Company in the St. Louis Regional Chamber's Green Business Challenge. In 2018, Tarlton earned top honors in the Leader Level category of the Challenge.
We've got a sustainability champion who leads the Tarlton Green Team and a committee dedicated to helping us all find ways to be environmentally conscious and responsible at work and at home.
Tarlton has completed more than a dozen LEED projects, including two of the first certified in the city of St. Louis: the Earth & Planetary Sciences Building at Washington University and our own LEED Silver headquarters. Since that time, we have continued to build sustainably on every project, whether or not it is registered for third-party certification.
Our office was built on a brownfield site and is outfitted with high-efficiency fixtures and lighting, a rooftop solar array to offset energy consumption, water bottle filling stations, landscaping and plants native to the region, and rain cisterns to collect water.