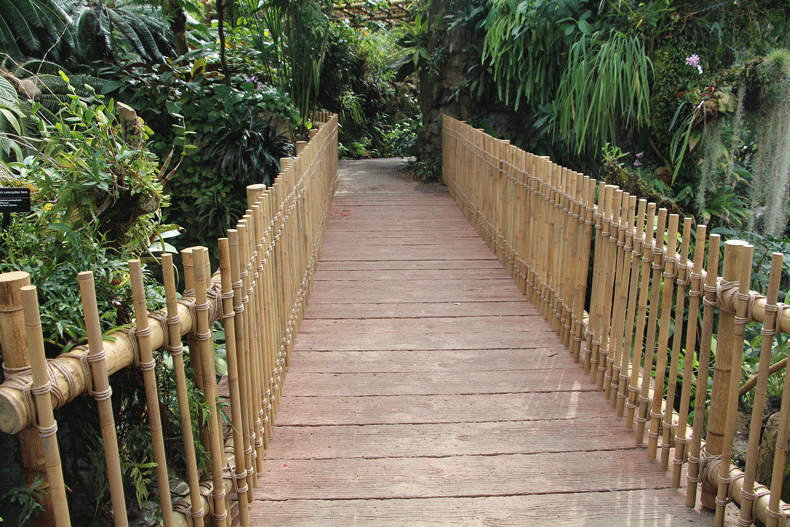 ST. LOUIS (Nov. 13, 2017) – Team refurbishes well-traveled bridge at Missouri Botanical Garden with ingenuity, sustainability      
Tarlton Corp., a St. Louis-based general contracting and construction management firm, garnered a 2017 Quality Concrete Award from the Concrete Council of St. Louis and American Steel Fabrication for the firm's work on the concrete transformation of an original wood bridge that connects a main walking path through the Climatron®, a popular attraction to visitors at the Missouri Botanical Garden.
The Tarlton Concrete team replaced the existing 28-foot-long timber bridge deck with a new concrete deck constructed from precast planks welded to the existing steel girders. The concrete was cast into 28 pieces each 12 inches wide by 8 feet long by 4 inches thick with a wood-grain texture to mimic timber planks. Using the precast planks in lieu of a cast-in-place deck allowed the existing decorative fiberglass wraps on the girders to remain in place and cut the duration of construction in half, to less than two weeks.
In addition to the new deck, the bamboo-wrapped stainless steel handrail was upgraded with new bamboo that was attached using rope lashing. The new bridge is designed to accommodate humidity and traffic for years to come.
Creating the concrete planks to replicate real wood planks was a challenge completed last winter in Tarlton's TEAM facility. "The precast molds were made of standard handset forms lined with an architectural wood grain rubber stamp," explained Brian Shaffer, Tarlton Concrete project manager.
Tarlton turned to Raineri Ready Mix to develop the mix and colors for the planks. Raineri completed renovations to the Climatron nearly 30 years ago and was an ideal fit for the 2017 bridge project. After only a couple test pours of the specially blended mix and colors, the desired detail was achieved. "The variation of the color settling into the various niches of the rubber stamp truly replicated the color and texture of real wood," Shaffer said.
According to the Missouri Botanical Garden, the term "Climatron" was coined to emphasize the climate-control technology of the iconic greenhouse dome that was designed to offer consistent levels of humidity to accommodate an extensive collection of plants, including many rare and exotic species. According to Shaffer, these conditions also proved ideal for curing the new concrete work.
In addition to Shaffer, the Tarlton Concrete project team comprised Michael Vemmer, project engineer; Jason Kennedy and Jeff Vogt, project superintendents; and Karen Espy, project assistant.
Tarlton began a second project at the Missouri Botanical Garden this year, serving as construction manager for the renovation and addition to the 7,000-square-foot Stephen and Peter Sachs Museum, due for completion next spring. The museum, which opened in 1859, is considered one of the most historically significant buildings in the Midwest and is listed on the National Register of Historic Places.